Buying new outdoor gear can be stressful and overwhelming. The first time I searched "camping tent" on the internet I got thousands of different tents all with varying attributes, never mind prices. I remember thinking "how do I choose?! I don't even know what I'm looking for." This is why one of my favourite ways to find new equipment now is by combing through blogs and reviews based specifically on the type of gear I am looking to purchase. By executing my research this way I, hopefully, am able to weed through some of the not so great gear before actually buying it. This is my goal for you in writing this article. Everything listed here I have used personally in the backcountry, motorcycling or a combination of the two.
My choice: Gossamer Gear The Two
Purchased The Two just this year after having it on my wish list for quite a few more. It was a financial investment but after reading the fabulous reviews I finally took the leap. It was worth it! So far I have used this tent over a dozen times with no issue. It packs down small and is very light weight which makes it great for both fitting into a motorcycle saddle bag and hiking backpack.
My choice: MSR Adjustable Pole
My reason for purchasing these specific tent poles is they were a cheaper substitute for Gossamer Gears name brand poles. Other than being a bit long in length when folded down I have no complaints about these poles and will definitely be using them next season.
My choice: Nelson Rigg Gear 30L including water proof inserts.
Although saddle bags are not a necessity for moto camping, depending on how much gear you are hauling, I throughly enjoyed having the extra cargo space and ease of storage these saddle bags provided. I purchased these bags from Amazon earlier this summer in preparation for my motorcycle trip along the Cabot Trail. At the time I wanted a saddle bag that was water resistant, secure and not too expensive. Rigg Gear fit the bill. I did find attaching the bags to my motorcycle to be a bit cumbersome as they are highly adjustable which meant many straps and loose ends. I also wasn't entirely impressed with the waterproof lining as after only a few trips they already have small holes starting in the crease lines.
My choice: MSR Pocket Rocket
This tiny stove by MSR is not only my oldest piece of equipment, but also my favourite. I received this stove as a gift over five years ago and since then it has never let me down. I would recommend this stove to anyone, anywhere. You will need a fuel can and lighter/matches as well which can be purchased at most outdoor equipment stores.
This pot is a great dish for someone just starting out and is looking for something on the cheaper end of the spectrum. I myself bought this pot over four years ago and even though the handle is now broken it is still in working condition. My only complaint about this pot is it holds heat, meaning once warmed over the stove you cannot touch it or the lid with your bare hands without risking a possible burn.
Cheap, easy to clean and usable what more could you ask for in a spork? My only complaint is the handle is a bit short which makes eating out of freeze-dried meal packets a bit cumbersome.
My choice: Greer Top (5+ to 12+)
Another Amazon find, this sleeping bag isn't quite warm enough for cooler temperatures but works well if you are a warm sleeper or camping during warmer nights. Packing down to twenty eight by twenty two centimetres fits well into a saddle bag or backpack.
My choice: McKinley Microfibre Sleeping Bag Line
For the times I am trying to save space in my backpack or am camping during hot nights a sleeping bag liner is my secret weapon. Why? Because it packs down small and offers little to no warmth during the night. Also a great option if you sleep with a blanket but still want that cozy sleeping bag feel.
My choice: Sawyer Squeeze
Although not a necessity when Moto camping as you will probably be near a safe water source or be able to haul in water. Having a water filter does come in handy when camping in the backcountry. The Sawyer Squeeze is light, small and works extremely well.
10. Inflatable Sleeping Pad
My choice: Hikentrue Ultralight Sleeping Pad
 f I had to pick one piece of equipment I couldn't do without it would be this inflatable sleeping pad. As a known side sleeping using this has helped me actually get some sleep when tenting. This sleeping pad can also help keep you warm by adding another layer of insulation between you and the cold ground. It packs down small and can be inflated in just a few minutes. 
My choice: Milwaukee Head Lamp
If you are trying to save space on your trip a head lamp may not be necessary as I myself have merely used the flashlight on my phone before purchasing this head lamp. Saying that,  it is so much easier to grab an actual head lamp instead of your phone when you have to make an emergency bathroom run during the night. Plus it saves the battery life on your phone, so win win. 
My choice: Licorne Solar Charger
This solar charger is perfect for charging phones or cameras during prolonged trips away from civilization. I merely clip it on my backpack during the day if I am hiking or set it outside when stopped for lunch. Then when needed plug my phone in. Easy and quick to use!
That concludes the basic gear needed for motorcycle camping. This list is only a guide and what you choose to bring on your trip is completely based on your needs and preferences. Now get out there and get camping!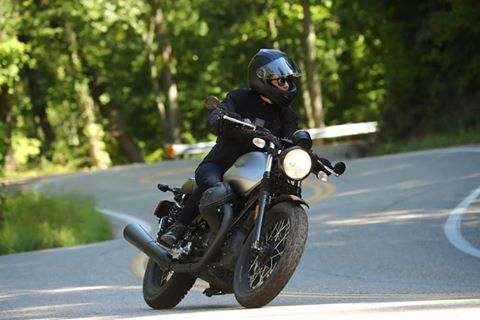 This Blog Post was written by Helen, a Canadian native and Motorcycling Enthusiast. who enjoys the outdoors, when she's not motorcycling, she hiking, camping, dirt biking, and canoeing. Follow her adventures on Instagram by clicking the button below.