An Honest Review of Indian FTR1200s Race Replica
Meet Katharina a Scientist/Engineer from Germany. As a passionate motorcycle rider, she has travelled on adventures across Europe some alone, and has had the opportunity to try out many bikes. Even though she isn't a shorter rider, she faces similar challenges as shorter riders, due to her shorter legs. After trying out a lot of bikes, she found one that she really loved – The Indian FTR1200s Race Replica. Read her amazing and very in-depth review of the Indian FTR1200s Race Replica. 
How tall are you and what bike do you ride?
I am 1.67m (5ft6). But I have short legs (0.77 m)
What made you want to ride a motorbike? & Describe your bike in 3 words.
The feeling of freedom and independence made me want to ride a motorcycle. And how I would describe my bike in 3 words would be; Aggressive, reliable and powerful 
Katharina's Review on the Indian FTR
What mark would you give your bike out of 10
Overall riding? 10
Technology and features? 8
Fun to ride? 10 (can I also give it a 20?)
Looks? 9 (I don't like the mirrors and so far haven't found any that suit well)
Fuel to km ratio? 9

 

Customer Service? 7
Value for money? 9
What is the Horse power? 126
Engine size (Cc)? 1203
Type of bike? Street tracker
Weight of the bike? 225 kg (empty) (approx 507lbs)
Tell us about your bike and what made you choose this bike?
I went for a test ride and fell in love immediately. The bike is a perfect mix of stability and roughness. It's easy to handle, very agile, and has its own character, which can be very beasty sometimes. I love the look of the FTR1200 race replica, it is really unique. Every Time I see my bike, I fall in love with it all over again.
How long have you had this bike for?
I've had this bike for around 1 year and a few months or to express it in km terms: for 24,000 km (14,919 miles). Before I bought the FTR I was riding the Yamaha XSR900 for 8 months.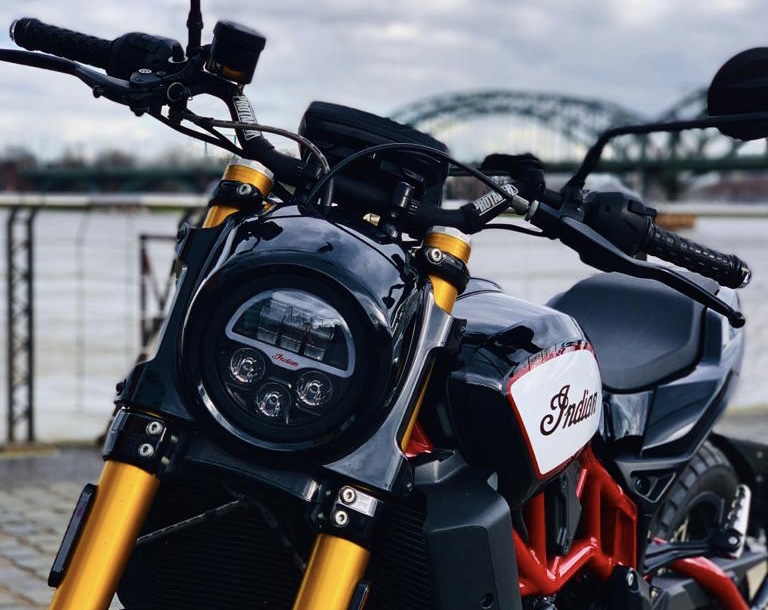 Did you have to adjust this bike to fit your size?
For the first 6 months I left the bike the way it was. But I had to stretch all the way to reach the ground with my tippy tippy tippy toes or rather with the tip of my shoe sole (The seat height is 85 cm and my leg length is 77 cm). It worked alright, I got used to it. But I always had to plan ahead, especially when stopping and parking. Even if there was a stronger wind coming from the side when stopping at a red light I had to use all of my strength to hold the bike upright. 
So I adjusted the spring preload, which lowered the bike by 3 cm (to 82 cm). Now I reach the ground with my tippy toes. It´s not much of a difference. I still have to pay attention to where I stop and park and I still can't push the bike when I sit on it but it does help even if just a little.
I never considered using a lowering kit. I did that on my XSR900 which changed the centre of gravity and hence changed the driving dynamic quite a lot. 
Would you recommend the FTR for shorter riders?
You can lower the spring load by max. 3 cm. And I think there are also lowering kits for the FTR. So shorter people can ride it. But you have to keep in mind that the bike is very heavy (about 230kg /507lbs). I can't push it while sitting on the bike and even standing on the side I have a hard time. It's tough to push it uphill. I have always tried to avoid these situations especially when parking, but sometimes it is unavoidable and it can be tricky to turn in the middle of a small street. Another disadvantage for shorter people is the distance of the handlebar. For me, it is too far away to hold the clutch and be stable when the handlebar is pushed in all the way. Therefore my curve radius is a bit bigger than normal. 
What do you love about this bike?
The bike has its very own character which is far from being boring and sometimes a little bit unpredictable. I love the rough and edgy attitude, it can be really beasty. At the same time, it gives you stability and safety. The wide wheelbase is very stable at high speed. But due to the thin tires (120 front/150 back) it's very agile and easy in corners. The bike basically demands to speed through curves! And it seems to have endless power. When you think that you reached maximum it still has more power left. The sound gives me goosebumps. I tried a lot of bikes, but this one is by far the most fun! 
Besides this amazing driving experience, I love that I can connect my cell phone with the ride command to manage my music and phone calls. And of course the cruise control. Since I ride every day 40 km to work, that addition is a nice and useful tool.
What don't you like and what would you change about this bike?
The FTR gets really hot in summer, I regularly burn my thigh when I have to wait at a red light. 
The tank is tiny and due to the shape of the fuel filler getting gas takes forever and can't be managed without spilling gas all over the bike. I need to refuel every 200 km's. That gives me a reason to take a break regularly, but I've had scenarios where I have been so low on gas and had difficulties finding a gas station.  
There are some more minor cons like the placement of the ride command which is too close to the ignition, giving the key a hard time (keyless riding would be amazing), when the engine is cold it stalls sometimes, and the side stand is too far back and too steep. But they barely influence my love for this bike.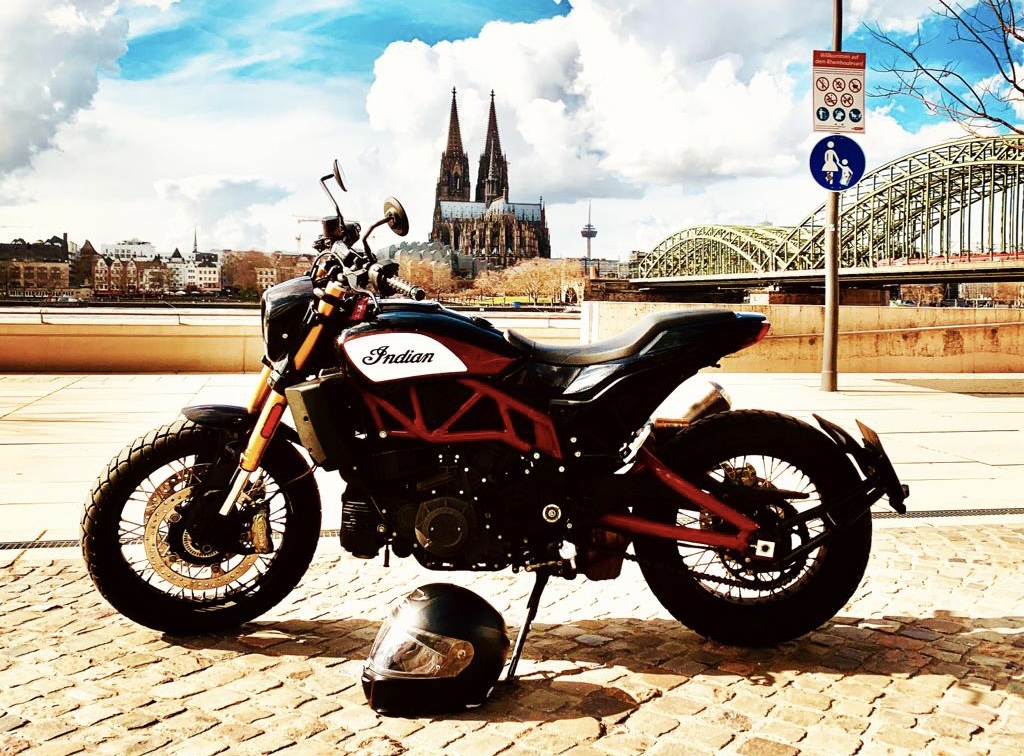 Is your bike good for long journeys? What's the furthest you've travelled with it.
Its not a touring bike. So you can't compare it to an Africa Twin or BMW GS. It has no windshield and depending on what handlebar you use you sit a little leaned forward. But it is still very comfortable.  Although, After a few hundred km my butt starts to hurt. I have already travelled more than 3000 km with it twice. There are luggage racks for the back and side of the bike which are really easy to attach. And due to the cruise control it is also very comfortable for longer rides on the highway.
How does it handle around curves?
It is very easy and smooth in the corners. You don't really need to push the bike into a curve, sometimes it feels like the bike is doing the work on its own. No matter how sharp the curve is, the FTR gets it easily. I tend to call it little rabbit because it is so fast and maneuverable. 
What top speed have you hit on this bike? Was it stable enough at that speed?
My top speed was 200 km/h on the FTR. That was when it started to get a bit unstable. But as you can imagine due to the wind resistance, going really fast is very strenuous. My average speed on the highway is between 140-150 km/h which is (if its not too windy) easy-going on that bike. 
Is this bike a beginner's bike, intermediate, or for experienced riders?
I bought the FTR after 1 year of biking experience. Until then I never went on a long tour or even went on serpentines. The bike pretty much taught me all I know about biking. I wouldn't recommend it as a beginner's bike but with a little bit of experience and self-confidence, you can grow with this bike.
Did you enjoy Katharina's Review of the Indian FTR1200s Race Replica? If so leave a comment below, and if you have any questions for Katharina, leave a comment too.