Review - Triumph Street Twin (2019 edition)
Review – Triumph Street Twin; Marta aka @pistonpinup, took some time, to give 'The Petitebikers blog' an honest review on the Triumph Street Twin. As a fellow 'petite biker' herself, Marta recently purchased the Triumph Street Twin and was excited to talk all things Triumph Street Twin too. So if you are thinking of starting your biking journey or considering to buy the Triumph Street Twin, read Marta's honest review first. 
What's your name and where are you from?
My name is Marta and I'm from Lisbon, Portugal. I'm currently living in Bristol, UK ( well for the past 11 years).
How tall are you and what bike do you ride?
I'm a petite biker too, 1.59m ( 5"2). I currently ride a Triumph Street Twin (2019 edition) and I also have my first ever bike in Portugal; a Suzuki TU250x ( from 1998). I think we can say I like classic/ café racer looks on my motorcycles. I have had other types but I seem to always go back to these.
What made you want to ride a motorbike?
Well, I took my bike license when I did my car license, which was purely economic reasons. Doing both was cheaper than one at the time. I was very much used to be a pillion on my friend's scooters and liked two-wheeled vehicles but I knew my mum would not allow me to have one myself. At the time, I saw it as an extra skill to get under my belt and thought maybe one day in the future I might ride my own motorcycle.
However I didn't get a bike until I moved to the UK for university. Motorcycles and gear were/are both more affordable in the UK – and bikes were/are more practical than using buses and came with the freedom to get around easily. This helped me to discover more places in England and Wales. Since then I've always had a motorcycle and absolutely love them.
Describe your bike in 3 words.
What's the Horse power? 64bhp
Engine size (Cc)? 900cc
Type of bike?  modern classic ( parallel twin engine)
Weight of the bike? 198kg ( dry weight)
Tank size? 12 L
Marta's Review on the Triumph
Tell us about your bike and What made you choose this bike?
My current motorcycle is a Triumph Street twin from 2019 (it has upgraded brakes and they have tweaked the engine to give an 18% increase in peak power to 64bhp as opposed to 54bhp from the 2016 version). I chose this bike during lockdown. Sadly, I had my KTM duke390 stolen during the lockdown and after not being able to locate it I decided to go ahead and get myself something new to commute to work. Initially, in May I was going to do a big tour of the western Balkans but the pandemic put these plans on hold. I chose the Triumph Street Twin to suit my current needs, like pleasure rides, commute, and small trips. If I were doing a bigger trip as per the original plan I would probably have chosen something with a good luggage system and a big touring screen, so as you can imagine probably a very different choice!
I was toying between a few bikes, believe it or not,  I also considered a Ducati Scrambler. Although I liked the café racer version of the scrambler, which was a bit too tall for me (seat height 805mm). I also considered the BMW rninet. 

Are you happy with your choice?
I couldn't be happier with my Triumph Bonneville, it is the lightest of the Bonneville family and still has enough power to push on bigger trips. The Street twin is 'an easy to' ride bike, everything was just easy and instinctive to get used to – just seemed perfect for my short size and allowed me to double on engine size – for me, it made perfect sense. I would rate it an 8 out of 10 and I will explain why!
It is a great riding machine, easy to corner, and feels very light. Turning circle is a bit Bonneville like, so when manhandling it, be prepared. Technology and features, it has very little apart from hazard lights and road and rain modes the rest is pretty much basic. However, if you think of the type of bike, a modern classic it does have a lot of modern advantages as opposed to buying an unreliable classic Bonneville, so it is pretty good!
What else can you tell us?
The Triumph Street Twin will bring a smile to your face and it is so instinctively to get used to – it is also a very good looking machine and you can modify it fairly easily ( triumph itself has tons of extras and motone and the've done a pretty good job of giving you alterations). 
When talking about modifications and add-ons from triumph I was a bit disappointed with their lack of making everything interchangeable – so some extras are not compatible with others and to me that coming from Triumph itself is a massive shot in the foot. Come on Triumph you can do better surely?! Having a rack that doesn't work with the optional seats is just ridiculous. That and the option of some more features such as cruise control maybe would make Triumph sell more than the Royal Enfield Interceptor. But those are the only downsides I see…A shorter rider usually can't buy the top of the spec bikes as usually these features are only included on taller bikes, so there is an industry gap here and certain brands like KTM have started to catch on to this, maybe time for the big old schoolboys to do it too.
I mean if you don't like the looks of this bike, then you might not like any classic motorcycles. I chose a Matt Ironstone and glad of my choice, the colour is great and works well with the triumph waxed luggage I got.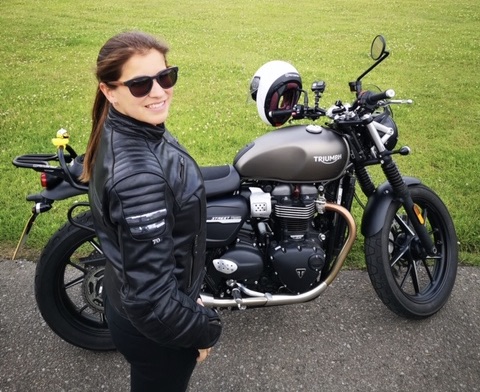 Did you have to adjust this bike to fit your size?
No luckily the Triumph Street Twin fit, and I am so glad for that! It was the best fit for >600cc  and I didn't have to spend time changing links on suspension or any other parts. The standard Triumph street twin seat height is 760mm and that works really well for petite bikers! It is a stock model and that makes me at ease with insurance – not sure if it is the same with other European countries but here if you don't disclaim modifications you could get into trouble, plus it always incurs extra costs. Just adding a note on seat height, there are plenty of aftermarket seats to customise the bike but seems they add a bit of height (sad face) so watch out for that for potential petit bikers buying this bike. 
How's the Fuel Consumption?
Fuel consumption so far is 66mpg which means at around the 130-140 miles I would need to refill my tank. 
What do you love about this bike after riding it for a while?
I love the the simplicity of the Triumph Street Twin. It is so easy to get on it and ride, just instinctive. That to me is what I call good design, looks and function work wonderfully for the street twin. It is no wonder it became Triumph's best seller since it came out. I think the fact that short riders can sit and ride is also very appealing and should be on the top of the list for new riders too as it is not a scary bike to ride. Having said that it is also great for experienced riders, it is a classic and certainly gets inspiration from old triumphs such as Steve McQueen's on the great escape.
I have been doing my advanced IAM riding course on this bike and I am glad I chose my triumph, I am getting more and more confident with it and it is just a pleasure to ride. You can take it easy but you can also ride it hard into corners. For me, this bike suits a lot of roads and I am planning a little tour on it soon.
What don't you like about this bike?
The Triumph Street Twin lacks storage. You can't even put a disk lock under the seat. We live in 2020, motorcycle theft is a real problem (at least in the UK, which is where Triumph is from). All I ask is a little space for a disk lock and maybe some waterproofs ( since this bike is British).
What top speed have you hit on this bike? Was it stable enough at that speed?
I have done 90mph (145kmh) on the Triumph Street Twin and it was on the limit, stable but I could tell more would be too much for its ergonomics, maybe with a higher screen, you can go further. I'm not a speed demon, so this bike feels good cruising around at 70mph (112km).
Did you enjoy Marta's Review of the Triumph Street Twin? If so leave a comment below, and if you have any questions for Marta, leave a comment too.
Help Support The Petitebikers Blog