My 3 beginner Motorcycles, For Shorter Riders
These are all bikes I have owned and tested for longer than 6 months
I am a shorter motorcycle rider, and at 5ft1 (154cm) I can confidently recommend the perfect beginner motorcycles for short riders based on my experiences. When I first started searching for bikes, I found none of the articles recommending bikes were written by short people, therefore it was difficult for me to believe the bikes listed were actually suitable. That's why I decided to create my own list. I went to a lot of dealerships and sat on a lot of bikes, these are the 3 bikes I felt most comfortable on. To all my shorter & petite riders out there, there are bikes out there you can ride. Again, this list is only considering bikes I personally owned, I will be making another list with a range of bikes suitable for short riders.
Important Things to consider
Before going to my pick on motorcycles for short riders. I've made a checklist on things to look out for as a shorter beginner rider. These were all important to me and I felt a lot of blog posts out there overlooked these points when suggesting good bikes for shorter riders.
As a beginner, having my feet flat on the floor played a huge role in how confident I was riding. Even though there are people out there that tell you, they can ride by just balancing on one leg and tiptoes, don't feel pressured to do the same if you're not confident. Just take your time and do what feels right for you.
I'm not sure about you but heavy bikes scared me as a beginner. Again I had a lot of experienced riders tell me that it doesn't play a huge role once the bike is moving,  but I didn't felt safer on a lighter bike. Full disclosure,  one of the bikes on this list is a heavier bike, I've included it because it's a great bike and I rode it for over 6 months. So for those who don't mind the weight, I would definitely consider it.
The power (horsepower /hp)(ps) of a bike is important. The bike doesn't need to be the fastest in the world, but more power has advantages like accelerating away faster from dangerous situations and riding on the highway more smoothly. Another thing to consider is, depending on what country you do your driving license in, power plays a role in what kind of license you can get. In Germany where I did my license, I needed a bike with more than 46 horsepower (ps) to get a full license. So check the regulations wherever you live by asking your driving schools.
Let's face it, motorbiking is not commonly known as a cheap hobby, that's why it's always good to get a deal. My bikes range from $5000 – $10000.
ABS (Anti-Lock Braking System) on motorcycles is a safety feature, built to avoid wheel locking and increase stability when hard braking. Braking too hard can destabilize a motorcycle and lead to either the front or rear wheel locking, causing the bike to overturn or slide. Just having ABS can reduce your chance of death or serious injuries in a dangerous situation by 31%. Therefore I recommend this feature to all beginner riders. That's why all the bikes listed below have ABS built-in. 
The 3 Motorcycles for shorter riders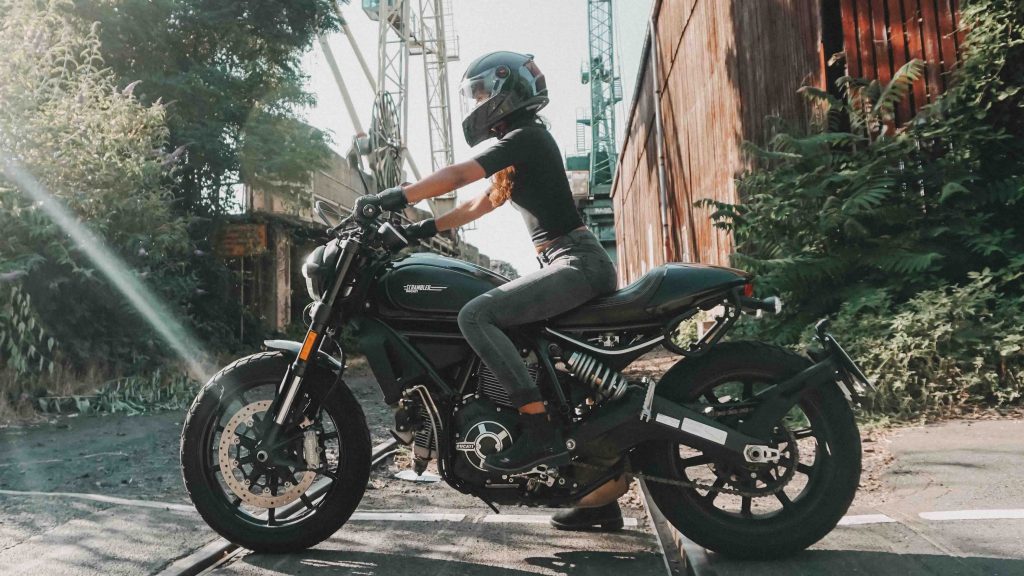 Of course the Ducati Scrambler Full Throttle makes the list. This is my current bike and I love it. I have the 2018 model, newer models cost $2000 (€1500) more. If you're 5ft1 (154cm) then it's not going to be a straight dealership buy. I know it's not ideal, but I am a short rider and I love this bike, those changes were completely worth it for me. The changes can be as simple as changing the seat. You can find out what I did by reading my blog post. (How I lowered my Ducati Scrambler). I love this bike as it's the only non-chopper/cruiser bike I've ridden and  I like this seating position as I feel I have better control when riding through curves.
How it holds with my checklist?
This Ducati is light and easy to handle for shorter riders.  Even more after the adjustments I made
I can get my feet around 90% flat, after lowering the bike. If it's not lowered and only the seat is changed, I would have my feet around 70% flat to the floor.  
This is a powerful bike, I have done a 3100 km tour with this bike, and it kept up with the group.
The only down point is, it's an expensive bike. To lower it and change the seat is another $300 additionally. So for beginners this may be scary as you have more anxiety for dropping it.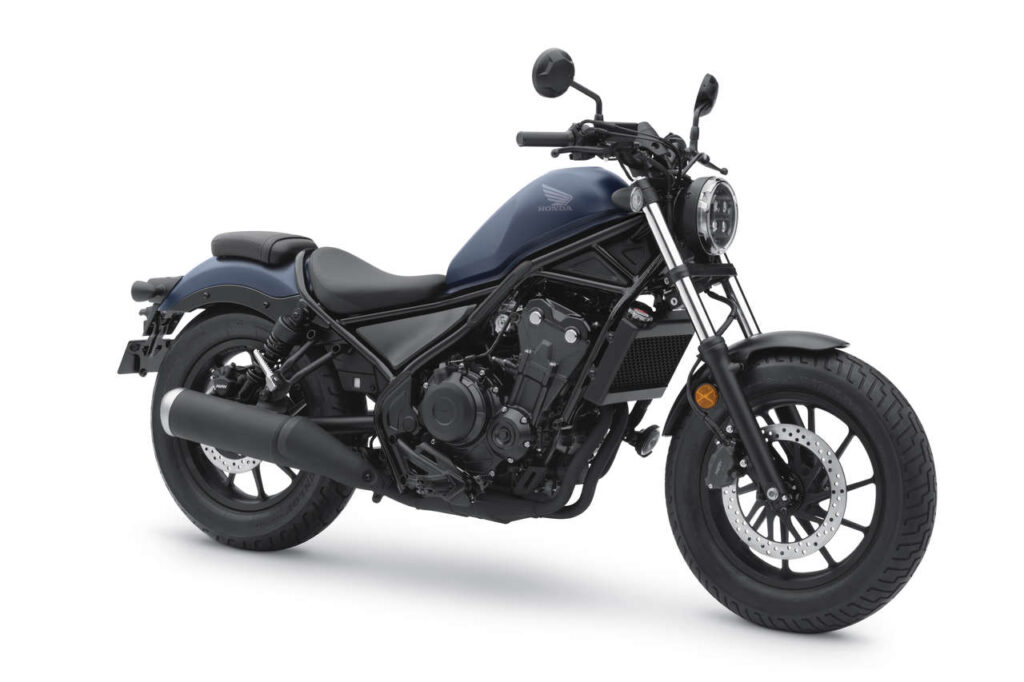 The Honda Rebel was a bike I gained a lot of confidence in before discovering the Ducati. This is a go-to bike for all beginner riders looking to ease their way into motorbiking. Not only does this bike look great it's also light and easy to handle making it one of the best bikes on my list for great motorcycles for shorter riders. The only minus point to this bike would be the fact that it doesn't have so much power. It's challenging taking it on longer tours, and riding with it on highways (but not impossible).
How it holds with my checklist?
The rebel is light and easy to handle for shorter riders. The narrow tank also helps take off weight from the front.
I got my feet 100% flat on the floor with the Rebel. I didn't need to make any adjustments to do so.
This is the least powerful bike on my list. I struggled on the highway with the Honda Rebel. But as a beginner rider, it is a great bike to gain some confidence with.
The Honda Rebel is the cheapest bike on my list, and I'm sure if you find one on eBay or second hand you may find a great deal. You can get the Honda Rebel300 for $4700 but I would recommend the 500.
The Kawasaki Vulcan S is a really good quality bike, I did my driving test on this bike and it rode amazingly. This bike looks like a cruiser but handles like a sports bike, making it a great combo. Because of how good this bike rides, it feels safer on the road than the Rebel. The only downside to the Kawasaki Vulcan S, especially for shorter riders is, it's a heavy bike and at 230kg (507lbs), it can be challenging. Saying that I at 5ft1 and 42kg (92lbs) managed, so you can too. Another great thing this bike offers is something called ergo fit, this allows the rider to adjust the handlebars, footpegs, and seat according to your size.
How it holds with my checklist?
The only downside to the Kawasaki Vulcan S is that it is the heaviest bike on my list. At 230kg it was at times challenging for me to work with. 
No adjustments had to be made for me to get my feet fully flat on the floor. Kawasaki also offer something called ergo fit, where you can adjust the feet pegs, seat, and handlebars to find a comfortable riding position.
The Kawasaki Vulcan S is a powerful enough bike, not only is it powerful but it sticks to the floor, so you feel secure on it while so riding through curves.
The Vulcan S is a great quality bike, unlike the Honda Rebel, this bike will be one you will hold on to for a longer period.
These bikes are bikes I have owned and ridden over a longer period and therefore can 100% recommend them as great motorcycles for shorter riders. I hope this helps in some way, if you have any questions, feel free to leave a comment in the comment section below. 
List of more suitable bikes for smaller riders.
I  will be doing a list of other bikes which I haven't owned but think are suitable for shorter riders, keep an eye out. Feel free to subscribe to my newsletter for more updates. 
Do you ride a motorcycle perfect for shorter riders?