An Honest Review of The Honda CB400SS
Meet Lianne from Sullfolk, an artist specialising in textiles and illustration, who also used to compete for the England squad in tae kwon do. In addition to biking, she's recently ventured into skateboarding. As a petite biker herself, she understands the struggles of finding the perfect bike. She's reviewing the CB400SS – read her honest review to find out if this bike is also a bike for you!
How tall are you and what bike do you ride?
My height is 5'4" (162cm) and my leg length is 29 inches & I currently ride a Honda CB400SS.
What made you want to ride a motorbike?
I started riding a motorbike out of necessity; I had come back from my first year of uni and had no way to drive or get around. I've lived in the rural countryside all my life and had to rely on buses and at 19 that wasn't as easy to get to work etc. My grandma left me £1000, and I got my CBT and scooter; six months later, I bought a 125.
Lianne's Review on the Honda CB400SS
What mark would you give your bike out of 10
Overall riding?

 10; it's my absolute favourite bike from the moment I got on it. 

Technology and features?

 6; it's not super techy, it's not fuel injected, it doesn't have a petrol gauge or a fear gauge. It has an electric start which my previous bike didn't, the choke is on the handlebars, which I love, and the speedometer had to be changed from km to mph. It also has a kickstart, which I love as it's got a retro vibe. 

Fun to ride?

 9; it goes real fast, real quick; it's a single-cylinder 400, so it will take off if you open the throttle too quickly, but it gets you out of trouble. It does like to ride at about 5000 revs, so I'm often in a lower gear than I might have on other bikes. 

Looks?

 8; it's got that beautiful retro Honda vibe, it looks like a 70s bike which was what I wanted, vintage bike with a modern engine. It's a 2005 model. The colour is its standard sparkle white which isn't for me, but a paint job will be coming; the back end is also a bit long for me as it has large chrome mudguards and a long chrome exhaust, all of which will be changed.

Fuel to km ratio?

 4; it does about 70 miles on a full tank, I had to find this out the hard way by riding it to empty, so it's not super economical, but it has a tiny tank. 

Customer Service?

 N/A

Value for money?

 9; it cost me £2,900. It has one issue: the carbs are letting in too much fuel, and it is not burning off, so I get a petrol leak now and then. Otherwise, I've had no issues.
What is the Horse power? 126
Engine size (Cc)? 1203
Type of bike? Street tracker
Weight of the bike? 225 kg (empty) (approx 507lbs)
Max Torque? Newton Metres) 31nm
Top Speed? 125kph
Tell us about your bike and what made you choose this bike?
I was looking for something vintage looking with a new engine, I had a cj205t from 77 before, and it had so many issues it hated being ridden by me. Bikes have personalities, and this one was grumpy. I loved how it looked, and it was a beautiful piece of history but an unrideable pain in the arse. I put out a poll on my Instagram recommending me bikes that were vintage modern or scrambler flat trackers. Most people suggested the Ducati scrambler or a royal Enfield. Jack Taylor suggested the cb400ss because it was one of the bikes he was after. I found one about an hour away and fell in love.
Did you buy the bike brand new or used?
It was used, registered in the uk in 2017.
Where did you buy it from?
I bought mine secondhand rather than from a dealer, and so far, I've found this to be the best way to buy bikes. The guy I bought this from had 5 or 6 bikes in his garage that he was restoring, so you know someone has looked after it well. 
How long have you had this bike for?
6 months. (Since writing this article)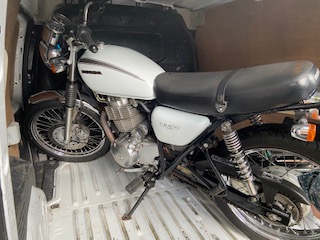 Did you have to adjust this bike to fit your size?
Absolutely no changes needed, perfect height, feet on the ground easily. 
Would this be a bike for Petitebikers? If yes or no why?
Yes, it would work for someone shorter than me; I reckon at least another 2-4 inches, depending on the rider's confidence. It's lightweight, and I feel fully in control the whole time. 
What do you love about this bike?
It looks awesome, it's the most comfortable bike I've ever ridden, it doesn't vibrate lots, it has reliable brakes and engine with a vintage vibe which is super customisable.
What do you hate and what would you change?
It's too quiet; I've changed the exhaust to make it louder as it sounded like a sewing machine, and I couldn't hear when I needed to change gear or when it was losing revs. The original exhaust is also super long, and therefore it doesn't always burn the fuel before hitting the exhaust and then backfires. It happens to all of them on the original exhaust. The colour isn't the one for me, and there's a lot of chrome on it, but I'm happy to change that up myself.
Is your bike good for long journeys? What's the furthest you've traveled with it.
I haven't done more than 100 miles on it, but it's super comfy, and I had no issues with being on it for a long time. I usually have hip pain from a damaged ligament when I ride, but this doesn't happen on this bike. 
How does it handle around curves?
It handles a lot better than I ride it! I'm definitely a centre wheel rider, and I slow right down on corners, but it leans over lovely; it takes getting used to a higher riding position with the bars than I've had before.
What top speed have you hit on this bike? Was it stable enough at that speed?
70mph (112kmph), but it got there easy and was smooth the whole time, no straining against the wind when I've ridden down open roads.
Is this a beginner's bike, intermediate, or experienced rider bike?
I would say it's a beginner bike; I don't ride it as aggressively as it could be ridden; someone with more confidence could really make it go, but it does a lot of the work for you and makes you feel stable on the road, and I feel a sense of trust when I'm on it.
What advice would you give to someone looking to buy this bike?
It's a Japanese import, but don't let this put you off. Parts for the engine are the same as Honda XBR 500, and a lot of parts for cafe racer customizing will fit. If you're not into the chrome aesthetic, see it for its potential, the shape and reliability are perfect for a custom project and it's not so expensive that you'll feel super protective over it or scared of dropping it. 
How much did you pay for your bike?
How much does insurance cost?
How often does your bike need service, and how much does that cost?
I service the bike myself or my partner does it depending on who has time. It's easy enough to do. 
Did you have any major expenses, repairs, etc, since you purchased the bike?
No major expenses, will have to take the carbs off over the winter to give them a decent clean. But I've found this the case with every bike I've owned. Luckily there's only one!