Meet Irene, Founder of PETROLETTES
Meet Irene, a passionate biker and founder of PETROLETTES, Europes' first all-female Motorcycle Festivals. Irene loves motorcycles, when she isn't fixing up her own bikes, she's organising epic Motorcycle Events for all the European lady bikers out there. She is definitely a free spirit, and there are only big things ahead for her, the team and all PETROLETTES out there. And you guessed it, Irene is also a petite biker. Find out more about Irene and PETROLETTES in the interview below. 
What's your name and where are you from?
My name is Irene Kotnik and after living many years abroad (8 years in NYC!) I live and work mainly in Berlin since 2013. I also love to spend a lot of time in Switzerland – you just can' beat the mountains and the beautiful swiss nature. 
I am working on my old Triumph rigging frame from 1969. I Can't wait to take out this Chopper once the new riding season starts. Also, I like small bikes for Off-Road riding. Back in November I went to Portugal to join an Enduro Trip into the woods. What an adventure!!!  I use my city bike (Yamaha XJ 600) to get around easily and it's not so special, but it always works and has all the legal restrictions needed – but hey! I live in Germany! Germany has stronger regulations when it comes to custom bikes, and this can be frustrating sometimes when you are a lover of custom and classic bikes like me.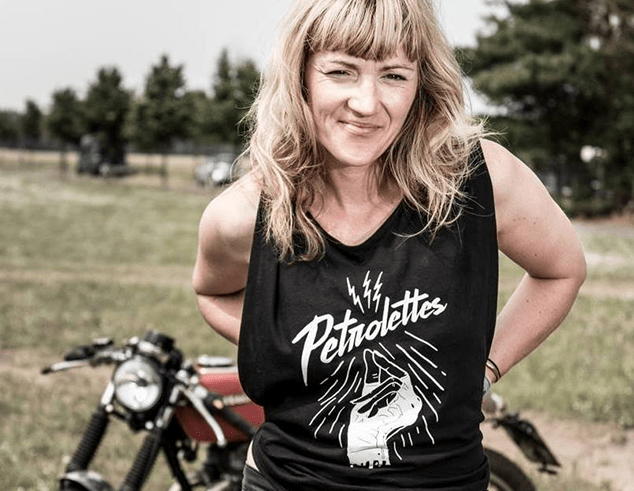 Why did you choose this bike?
I don't see young women riding around with Choppers and I like breaking the stereotypes. Personally, it's too easy to just buy a brand new bike and ride on Sundays when the sun is out. I am a fighter (and a lover ;-)) and I like getting to know an old-timer and figuring out the mechanics. My garage is the one place I don't want to feel stressed. I work on a daily basis with a couple of projects at the same time and I talk to a lot of people. When I get to work on this bike in my garage I want to relax and meditate while working with my hands. She is a piece of work – but that's exactly what I like.
What do you most love about motorcycling?
Honestly the community! Yes, I love riding and feeling the adrenalin when I get to push my limits. But I have the most fun when I see old friends and make new ones that are as butt crazy as I am. This passion unites people and it creates a special bond!
Motorcycling sets you free and the wanderlust increases just when I close my eyes and imagine the landscape ahead from my handlebars. It's just something really relieving and empowering. I am very glad that motorcycling came into my life. It literally took me out of a career-driven devils circle and set me and my soul free…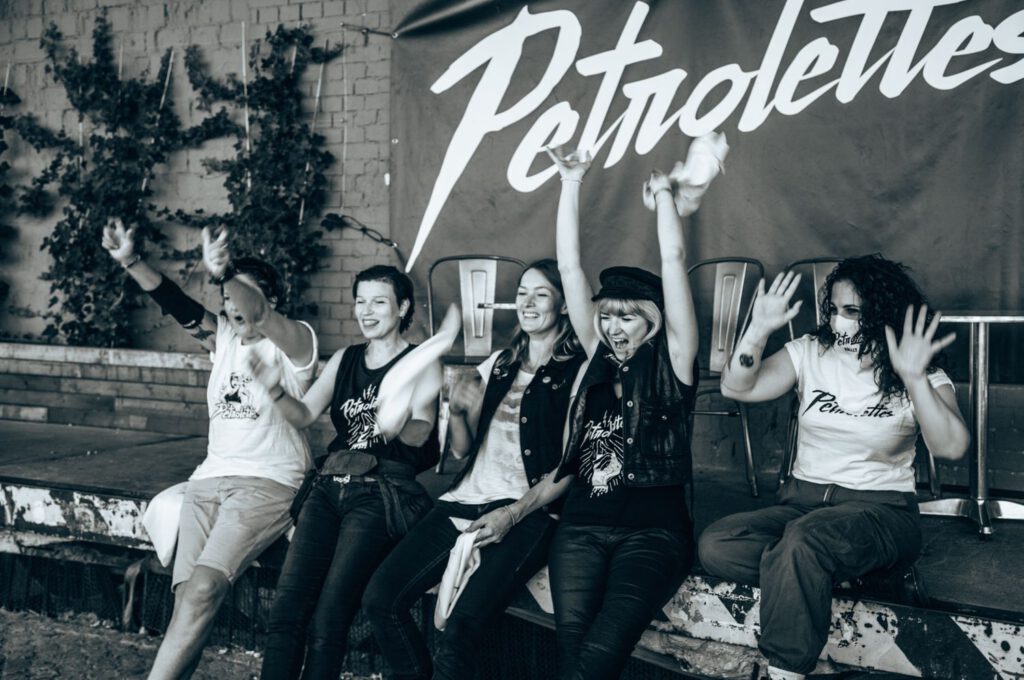 When did you start PETROLETTES?
I started PETROLETTES festival in 2016.
And what inspired you to start PETROLETTES?
It was a mix of a lot of inspired moments. In 2013 I was part of the origin of one of the most important modern moto-events club in Europe, which put my life upside down. In 2014 I started a moto-girls club in Berlin and I love to bond with other female riders. Sisterhood is something really powerful. When you ask me female empowerment will only work when women work together. I am not a fan of bullying each other around and setting others off just to rise above yourself. Teamwork is when I feel the most comfortable. After visiting different moto-events around the globe it was very clear to me: women motorcyclists need their own space where we can feel free, safe, and have the opportunity to unite.
What does PETROLETTES mean to you?
PETROLETTES is a platform to connect and network.
Our goal is to connect female riders and help them realize their full potential. We want to open up a male-dominated industry, create communities that reflect our passion for motorcycles, and fire up the female spirit in our sport. By providing a unique and safe space for women to discover and develop their passion for motorcycles. We can make a huge difference for women who ride.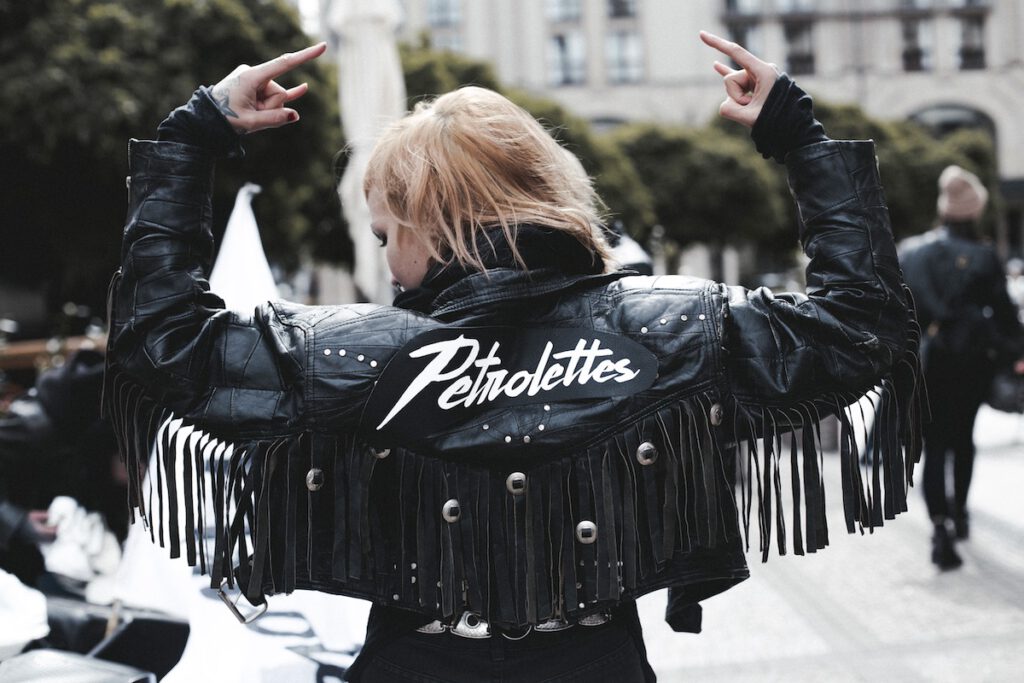 Why did you choose the name?
A friend chose the name and I really liked it. It's a French word that symbolizes petit women with petrol in her veins – or how I prefer to say: a woman with fire under her butt! LOVE IT!
What are your favourite highlights of PETROLETTES since it began?
Just when we launched the event the very first time I remember these two mind-blowing moments:
When we did the sprint race outside of Berlin on a street between two villages we marked the starting and final line of the racetrack and cheered through the megaphone that motorcyclists shall group in their HP capacity to race against each other and believe me most of the participants were scared and ducked their heads down. My team and I did some show-races and others started to follow us. After one hour the fire sparked and we couldn't stop all these moto-ladies from racing anymore. They had the racing bug and were on fire!
Another good moment which proved right from the beginning my point of view: a motorcycle magazine called me and suggested a male photographer to come and cover our event. I just asked: "Don't you have a female photographer?" And they answered they would only have a female secretary and female intern in their editorial office (typical!!!). Oh well, I asked for the female intern to come and she was not just rolling out from school – this lady traveled from Greenland to Gibraltar before and wanting to become a respected journalist. She delivered a well profound story about PETROLETTES 2016 and after our coverage became a full-time journalist for several moto-magazine! What a success!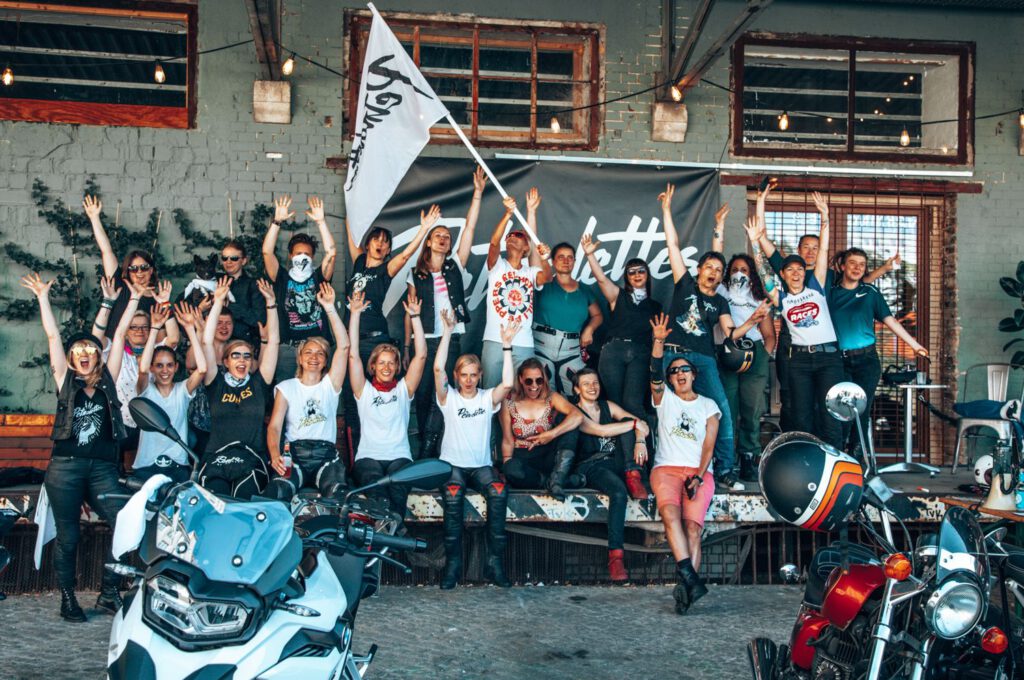 What are you most looking forward to with PETROLETTES in the coming years.
I would love to include more female riders. The exchange is so important and at the same time to inspire and encourage each other in this safe space is very unique and significant. I want more diversity in the industry! I want to see more young riders and definitely more female involvement, also in the field of technology and engineering.
What is shaking for 2021?
My team and I proved with creative ideas and an unstoppable energy we get through this pandemic crisis which we all experienced this year. Our plan B became plan A and was going through the roof. Next year we will pick up right from there and do our RÄLLLY again. Save the date: June 04-06-2021. We hope to inspire more cities to get involved and seeing more ladies to go out and ride. In the end of 2021 season we are planning a special Summer Camp with limited tickets at a mesmerizing spot in South of Germany. Stay tuned! We have planned a lot for our community.
Stay wild and rad until then!
What one piece of advice would you give to anyone looking to start motorcycling?
Be careful not to get addicted 🙂