Not only is she a motorcycle test rider for an Italian TV show (Star Bikers), she also finds time to be a civil engineer. Lucia sat on her first motorcycle when she was just 12 years old, and since then she's managed to have one of the best jobs in the world. She proves, that women can overcome any obstacle, and inspire to be whatever they dream.
What bike do you ride?
I ride lots of different bikes for my work. My personal bikes are a Yamaha Mt07 and a motard (Betam4)
What inspired you to get your licence?
I've been riding for ages, I started riding when I was 12 years old. My father taught me how to ride motorcycles when I couldn't even touch the ground. So, as soon as I turned 18, I got my European A2 license .
What were your biggest challenges?
Showing myself that I can do whatever makes me happy despite any barriers and obstacles.
What do you enjoy about biking?
I enjoy everything! It's not just a matter of passion, it makes me feel alive and free. Whenever I have a bad day, riding solves any problem!

How tall are you?
Height: 170cm (5 ft 6)
What bike do you ride?
I ride lots of different bikes for my work. My personal bikes are a Yamaha Mt07 and a motard (Betam4)
Why did you choose this bike?
I chose my Yamaha mt07 because I fell in love with it during a test ride. Not only is it a very reliable bike, but it is also extremely light and agile. I love that it's powerful and great for long-distance travel. Additionally, the value for money is amazing. I use my Motard for everyday life, In Italy especially Naples where the roads have lots of potholes and irregular pavements, I need an agile bike with great suspension, the Motard works perfectly. It's also perfect for maneuvering in and out of traffic. I had a scooter but clutches and gears are a lot more fun!
Are you the only biker in your family?
No, my father is my inspiration, he is still a very passionate biker!
What advise would give to people who want to start?
Don't give up whatever happens. Motorbiking can be difficult at the beginning but it is worth every effort. I would advise you to choose a bike that fits your level. To gain confidence, start with something light and agile, then slowly increase the power. It is always better to learn how to control a smaller bike, focusing on the right techniques before moving on to your dream bike. If you start with a powerful bike, it can be more difficult to control, as well as dangerous. Track courses are also extremely useful, for increasing your biking skills, and motocross can help you develop amazing control of the bike..
I have my own motto,  "adding power will make you fast on the straight, removing weight will make you fast everywhere". 😘 🏍💨✌🏻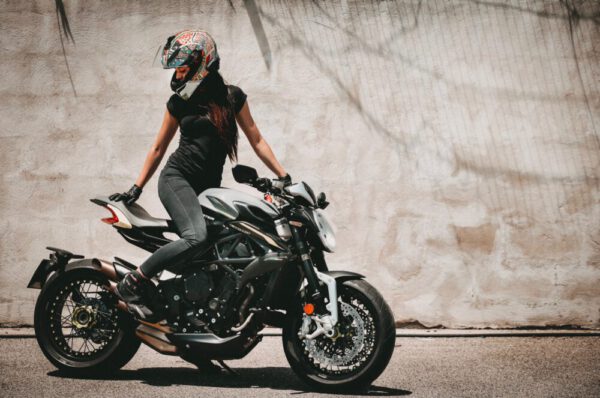 If you have any questions for Lucia put them in the comment section.