Meet Motorcycle Racer Lara
Meet Motorcycle Racer Lara from Derby (@_laramoto_). She is a woman of many skills. Not only is she a Motorcycle Racer, but she is also an Engineer, a Gold medalist Ju Jujitsu Fighter and in the Army. She is an inspiration to so many people out there. She really checks the boxes when it comes to breaking stereotypes. If you're considering racing or are curious on what it takes to be a motorcycle racer, read Lara's interview with Petitebikers, where she answers in-depth, just what it takes to be a motorcycle racer.
I am 5 foot 10 (sorry I'm not a 'petite biker!') 
I own a white Ducati SuperSport S, 939cc L twin. I love it so much. I race any bike I can get my hands on – recently a 20-year-old Suzuki GSXR SRAD 600, but I've raced anything from a Honda CB500, Ducati Monster Supertwin all the way up to an epic Ducati 1098.
Tell me 3 fun facts about you?
I've got my elbow down around Rockingham Circuit. Thought I was scratching the bike till I realised it was my 

elbow

 slider! Chuffed to bits.
I was recognised by the Telegraph & Women's Engineering Society as one of the Top 50 women in Engineering for my simultaneous careers as an Engineering Manager, Army Reservist and Motorcycle Racer. 
I'm a gold medallist in Jujitsu – won a few competitions doing ground fighting in my white pyjamas.
How old were you when you started racing?
My first race was at Brands Hatch in March 2015 – I was 29 years old
What inspired you to get on the track? And how did you start?
I'd bought my first 'big bike', a Honda CBR600F in 2013 and after a few tours on it, I wanted to improve my riding skills so I took it on a few track days. I had really good feedback from the instructors who corrected me on some basics and said I had some natural talent that might serve me well in a race. I used 2014 to develop my skills, progressing from the novice to intermediate groups, still on the CBR. I then hooked up with a brilliant buddy who helped me with transport and teaching me some race craft.
I bought a Honda CB500 to race as it's 'cheaper', and relies on developing your braking & corner skills rather than outright power – you learn so much about corner speed! After a couple of test days on it, I lined up on the grid at Brands Hatch in 2015 with ThundersportGB. The red lights went out and I've been addicted ever since!
Can anyone start racing? Or is there a special training you need to do.
Absolutely. Anyone who enjoys the thrill of a chase on a motorbike and maybe a dash of adrenalin should give it a go! You need to pass an Auto-Cycle Union training day, who teach you some racing rules and what the flags mean. They check your ability to ride on the track and follow a racing line. There is no pressure at all to 'perform', they just want to see you can control a bike and be predictable. The day concludes with a practice start to make sure you can pull away safely. Anyone can pass this day with a willingness to learn and a few track days under your belt to help with confidence.
Are you the only racer/biker in your family?
My brother rode a 125 for commuting and my partner Ben did some touring on a Honda VFR. My dad bought me a Yamaha Passola when I was 15 and regretted it ever since, he's never ridden though! I think my mum sat on the back of a few mopeds in her teens. #Modmum 
Were you scared the first time you started? 
Absolutely – but it's a good scary! I remember the roar of the ~40 Honda CB500s on the track at Brands Hatch – often called the 'Sound of Thunder' as these rumbly twins launch into life when the lights go out. You all fight for a place in the first corner (and that's the epic Paddock Hill Bend) and I remember getting stuck in and coming out the other side thinking 'YEAH I DID IT, I'M ACTUALLY RACING!'. Its such a rush – and once you've done it, you can never go back. Track days are not the same anymore. 
Do you still have moments of fear when you're on the track? If yes, how do you deal with it?
Yes of course. That fear keeps you safe and being tentative sometimes can keep you rubber side up. I've had nervous moments – like when I lost the back of my CB500 going round a long left hander at Oulton Park. I was right on the edge of the tyre and it stepped out speedway style, at 80mph. I saved it but it could have been messy! (Check out my racing video on YouTube for evidence – www.youtube.com/c/laramoto). I also should be less scared of wet weather riding. Everything is a lot looser and it's definitely a working point for me. I have made notes on every success and failure at the track and added it to my racing learning record which really helps me develop and be better at dealing with different racing scenarios.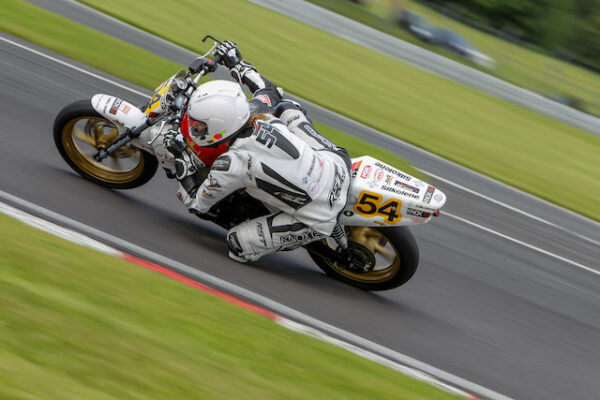 Have you ever fallen when riding? If yes, was it easy to get back on the bike?
Yes – probably more than most! Most were just silly spills like losing the front and 'low-sides' (where the bike slides out from underneath you). Once the bike is fixed and you check its safe I can jump back on with no issues. If it's a bigger crash, like a high side (where the rear wheel tries to overtake the front wheel and snaps you off), you can get injured and it's best not to get back on too soon. Every crash has a reason.  I like to understand exactly why it happened and how I can avoid it next time. Bikes don't crash on their own – the rider has either made a mistake and/or misjudged the conditions. It's super simple to understand why and try and avoid doing it again!
What's your favourite part about racing?
Firstly, it's the close battles with someone at a similar pace to you. You gain on them, overtake them where you are stronger, and lose out when they outperform you and redo it all again lap after lap right till the checkered flag. It's brilliant when you trust a fellow racer so you can get really really close to them, but feel safe doing it. Such a rush! Secondly, it's getting a PB. Whatever your pace is, taking increments out of your track time is such a good feeling as it proves you're getting faster, riding better, and learning each track just that little bit more. Thirdly – podiums feel AMAZING. It takes so much work to get one and the feeling of reward is immense.
What do you least like about the sport? (what would you change?)
It's extremely expensive! You can sink about £7k – £10K initially to buy a reasonable bike and commit to 7 – 8 championship rounds a year. It's then it's ~£5k a year if you're lucky and you don't fall off too much. Those are costs to race the main tracks in the UK, like Donnington, Cadwell Park, or Brands Hatch. Smaller bikes and smaller tracks, including on/off-road ones, make it cheaper. The ratio of bike racing to preparation before/after can feel pretty skewed too. For less than an hour of racing over a weekend, you'll spend weeks getting yourself and your bikes ready. For those that get it – "life is racing, everything else is just waiting." (Steve McQueen)
Do you have to do any special checks before you get on the track? If yes, what's important to check?
You do. You firstly need to check yourself (before you wreck yourself! Hehe). Am I refreshed, well hydrated and concentrating? Am I fit and safe to be on the track? If you're happy that your head is in the right place, you can think about your equipment. Leathers need to be in good nick, helmet is the right standard (I use Nexx Helmets – brilliant!) Boots and gloves in good condition. I'd recommend Knox Armour for all protective kit, I use their gloves, back and chest protector – worth every penny.
The bike has to be structurally sound, engine running well, and be set up suspension wise for you and show no signs of leaking. They need fresh, upgraded brake fluid, fresh oil in the engine, and only water in the coolant system. (Look no further than Fuchs Silkolene!) You need to know the history of your tyres and put fresh ones on if you're in doubt. Before you actually leave the paddock, you need to check fuel is sufficient for the laps you're about to do and the tyres are the right pressure. Ideally, you should use tyre warmers, but if it's just a track day, spend at least 2 laps warming them up before you start cranking in some lean angles.
Can you make a full time career out of racing? Is that your goal or are you already doing that?
Starting from a younger age and gradually competing in on faster bikes is probably the most common route for motorbike professionals. For anyone coming later into the sport, you need to be riding and racing motorbikes at least once a month over the racing season and topping up your skills off-road in the winter season. This will keep you on your game, but it's an intense commitment.
I'm sure you can make a full-time career out of racing if you're prepared to put the time in and start winning podium positions to get noticed. Or have a great USP that sponsors will support you for. I don't have a full-time career out of racing, but it certainly feels like a full-time job when you're doing it! I am seeking to balance my day job with paid work as a reviewer, rider, and racer.
Is racing a male dominated industry?
It is indeed! However, every time I go to a track meet I see more women competing, and it's hugely exciting. Feeder organisations like British Mini Bikes or dirt track, motocross, and enduro events are seeing more and more girls competing. It's only a matter of time before it's 50/50.
Are you treated differently as a female racer?
The best thing about the sport is that once those lights go out, it's just you and your machine, against other people on their machines. It's a brilliant feeling where gender has nothing to do with it. Off the track, all my friends in the paddock, female or male, are only too happy to help you, whether you need a spare part or a track walk. It's a brilliant community and I've not noticed anything different as a female rider.
Why do you think more women don't take up racing?
If more women knew what they were capable of and how fast they could be, there would be more women racing. More parents need to encourage their daughters to try two wheels, more girls need to ride motorbikes, more ladies need to do track-days and more women need to get on the racing grid and give it a go! There are many reasons why you shouldn't race. As soon as you've understood the relevant risks and how you are going to manage them, just get out there.
Do you ride different on and off the track?
Yes, very much so, but only in terms of speed. On the track, it's one-way traffic, clear tarmac, plenty of runoff, and marshals at every corner. It means you can push your limits safely. On the road, you need to rein yourself in and respect the conditions, the speed limit, anticipate blind spots, and be prepared to shop when a tractor is parked in the road. The California Superbike School teaches you techniques on how to make the most of the tarmac ahead of you, road or race – I really recommend going to their events.  
What one piece of advice would you give someone wanting to try racing for the first time?
Race the track. It's my racing mantra and I write it on every bike I race. Yes, there are other people and the right ones will pull you along – but it's the track you're competing on, and it's the track that you've got to beat. Other competitors are just in your way ;).
I'm lucky to be sponsored by Fuchs Silkolene (https://www.instagram.com/fuchs_silkolene/?hl=en) who have provided me with engine oil, lubricants and cleaning products ever since I started racing. I have a garage full of products from them to keep my bikes running sweet so really grateful to have them on board. I also always wear protective clothing and kit manufactured by Knox (https://www.instagram.com/knoxarmour/?hl=en), I love wearing their armoured shirt, the Urbane Pro but also rely on their Handroid gloves, plus the Aegis back and chest protector when things don't go to plan! They have a brilliant catalogue of functional street wear that you can go to the pub in, a great clothing brand tailored with women in mind. 
Do you have any questions for Lara? Leave them in the comment section below.