A project manager, and part-time DJ, media editor. She entered the world of motorcycles completely independently and she wants to empower more people from all parts of the world to feel included and represented within the biking community. Her dream is to one day embark on a world motorcycle trip starting in Korea. She is passionate, a beautiful writer, and doing her part to create an inclusive biking community.
What's your name and where are you from?
My name is Patty and I'm a Korean American repping Chicago, Illinois.
What bike do you ride? And how many years have you been biking?
I currently ride a throwback CMX250 (Honda Rebel) and I just started my moto journey last year.
Why did you choose this bike?
I knew right off the bat that I didn't want to initially invest in a new bike after having such little seat time. I don't have motorcyclists in my life and have never sat as a passenger. I got to handle a motorcycle for my first time during the motorcycle safety class I took last summer, and I certainly noticed my learning curve in comparison to others who had sat on bikes before. Although I completed the course and got licensed on a 500cc, I wanted to continue practicing my skills on a smaller machine with the intention of upgrading as my skills improved. I picked up my CMX with custom build ideas in mind so this is a project bike that I'll be modifying on my own.
What inspired you to get your license?
I was born in Southern California and I noticed choppers all around me during my early childhood years. When I was 7 years old, I watched a classmate strap into a custom helmet and climb into their father's sidecar; the low rumble, glistening chrome, and dancing fringe had me enamored. That was the moment I decided I wanted to ride a motorcycle. In recent years, I've compiled a mood board of custom bikes that caught my attention and became inspired to learn how to wrench in order to customize my own. I registered for a motorcycle safety course before pandemic lockdowns began and as much as I considered cancelling the course altogether, I persisted to roll with the punches and rescheduled the course until lockdowns loosened up. I picked up my CMX a week after successfully completing the safety course and purchased a substantial toolset from a local business to further inspire my mod dreams.
What do you most love about motorcycling?
I love the empowerment that motorcycling provides. I think it's safe to say that riders share the love of pulling a throttle and gliding through the wind because of the sense of liberation that washes over you. It's reminiscent of the adolescent joy I felt while riding bicycles around with my neighborhood friends as a kid. Given the fact that we're in the middle of a global health emergency, living through civil unrest, facing political turmoil, and fighting for basic human rights, finding methods of self-care has become more of a necessity than ever. I consider motorcycling as an investment of self love that has played a beneficial part of my mental health care. Throughout the last year, I found myself itching to go for cruises during times of heightened anxiety, like when I was in between #BlackLivesMatter protests, because of how engaging riding a motorcycle is. Everyone has had to discover their own outlets of healthy distractions during this time and I love how riding gets me out of my own mind. It's important to find what empowers you and to keep doing it, especially as a woman. Female empowerment is a vital force in the universe.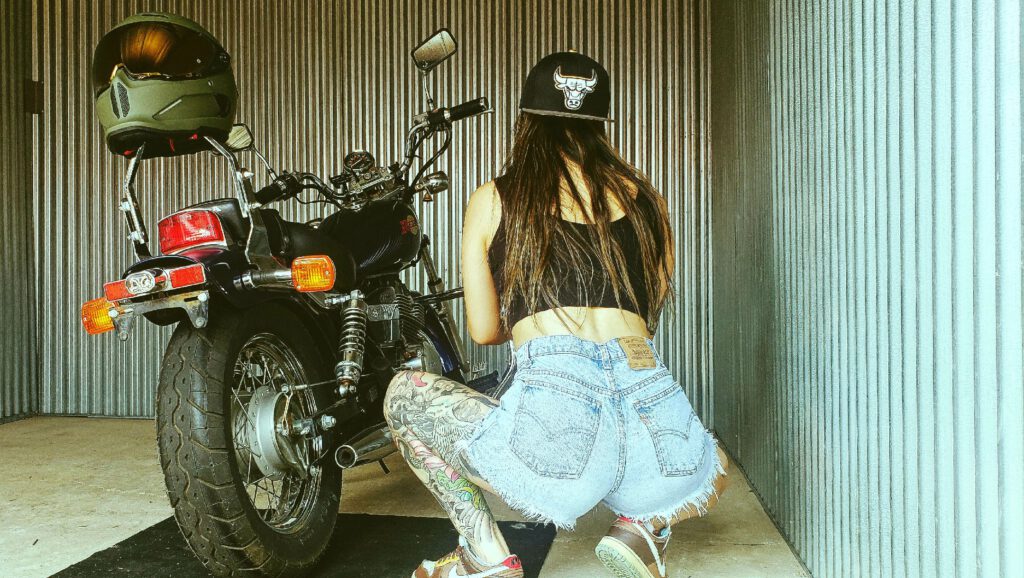 What were your biggest challenges with motorbiking?
I've come to deeply appreciate the satisfaction of embarking on my moto journey independently. But it's also been my biggest challenge. I've been relying heavily on the internet and have successfully found answers online through various social media platforms and forums. No matter how frustrating researching the internet can feel at times, I've never felt like throwing the towel in and forfeiting. My learning journey has been an incredibly rewarding experience that feels spiritual in a lot of ways. Since motorsports and wrenching are male-dominated, I've enjoyed going against gender norms with all the other strong & independent women who are proving they can accomplish anything by themselves. I encourage women to go for it regardless of if they know other riders or have any prior experience. You'll most likely end up surprising yourself if you just do you.
I share an honest perspective of my learning journey on my "motogram" @dame.rider 🙂
Have you ever been on an epic motorcycle tour? If yes, where did you go? If No, is there one you dream of doing?
I'm constantly daydreaming of renting motorcycles during international travels and I'd love for my first epic tour to be in Korea. Motorbikes and scooters are heavily utilized forms of transportation in Korea due to the density of the country and affordability. Much of South Korea is rich with indigenous nature and I'd love to take it all in while touring on two wheels from Seoul to Busan (not to mention all the delicious Korean food that I'd get to enjoy along the way). It would be amazing to see the country transition from colorful cityscape to mountainous farmland to peaceful beach town. Since Korea is largely a patriarchal nation, I'd feel a sense of satisfaction knowing that I'm touring the country in a fashion that goes against their social norms. I take pride in being a Korean American woman who doesn't fit into South Korea's gender roles and I hope to inspire other AAPI women to express their authentic selves.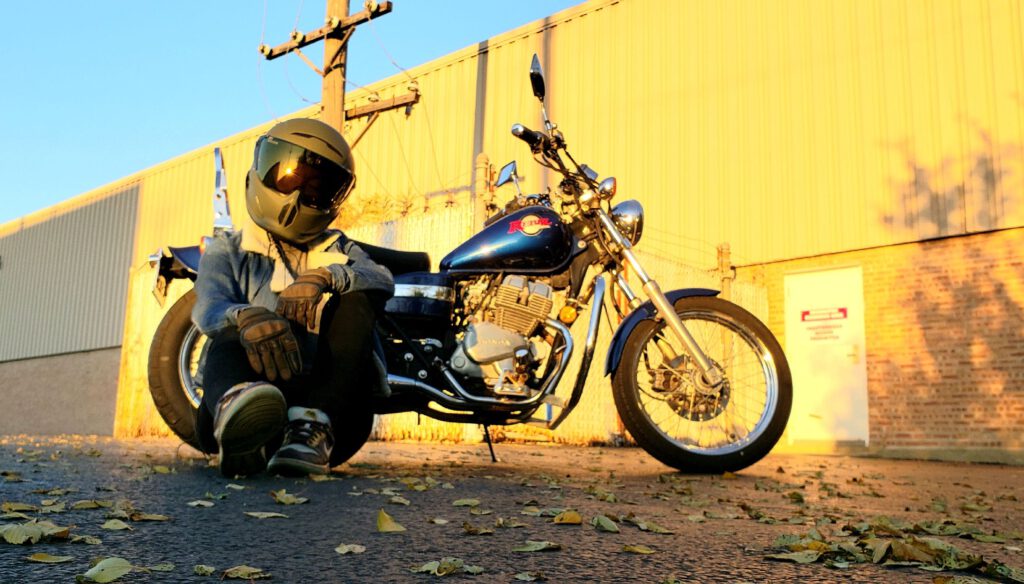 What do you do when you are not biking (work, hobbies)?
By day, I work in the cannabis industry as a Project Manager and by night, I'm doing something creative like curating playlists to DJ (when it's safe to dance together again), editing digital media, or writing. Lately when I'm having a creative-block, I dive into a movie or slide into the kitchen to make cannabis infused treats. Cannabis has been legalized either for medical patients or adults 21+ across most states in the U.S. It's been incredibly refreshing to witness the regulatory progression across the world as the stigma around cannabis is slowly reducing and adult consumption is becoming more normalized. Many would assume cannabis and motorcycles don't mix but as a registered medical cannabis patient, it's a holistic remedy that seamlessly integrates into my everyday life. I like to flip the script on stereotypes by serving as an example of a highly productive medical cannabis consumer. Catch related content on my personal Instagram @patzaddy
Is there anything you would want to change within the Biking Community?
I'd love to see more diversity and inclusion in the motorcycle community, especially in the U.S. There are negative connotations associated with motorcyclists that I hope we can evolve into progressive representation. Multiculturalism is the identity of the majority of the population and we have a responsibility to instill genuine diversity & inclusion in all areas of our society. I want to see a safe and welcoming space for LGBTQ and BIPOC to join the motorcycle community regardless of the lack of representation at the forefront. In a similar sentiment, major brands/manufacturers are being challenged to operate inclusively as well. The front facing media that motorcycle brands produce have been White-dominated, but, imagine the diversity of new riders who would become interested in joining the motorcycle community if we saw representation of Black, Indigenous, people of color, lesbian, gay, bi, trans, queer identities being normalized on two wheels! I hope to be a part of the evolution of young riders who bring progress to the table by integrating diversity and inclusion into the community.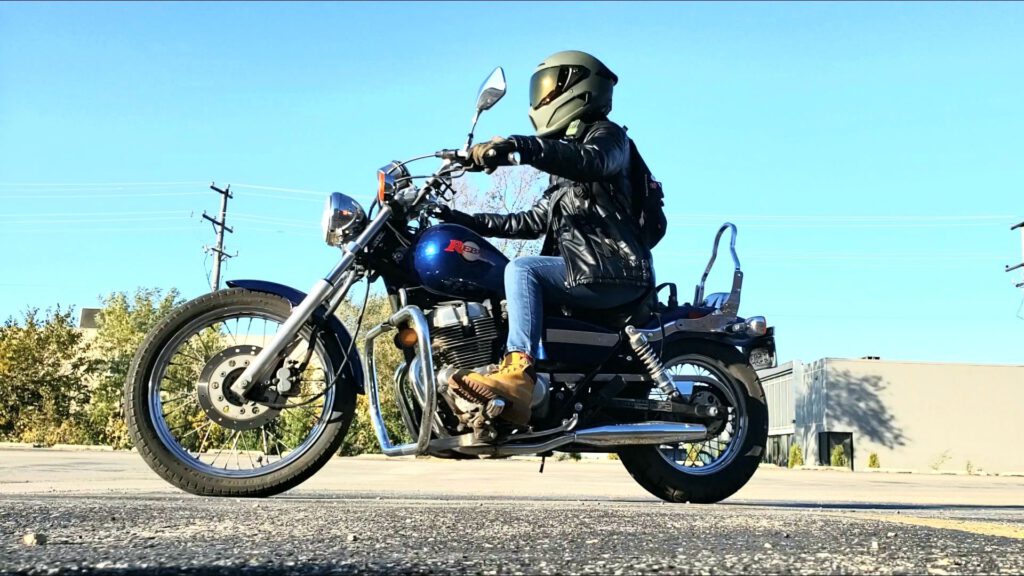 (Bonus Question) How might we be able to accomplish this type of change within the community?
Pursuing anti-discriminatory evolution requires mass attention, informed participation, and an active rejection of hate. The world recently witnessed a domestic terrorist attack on the American Capitol and democracy- a stark example of how American society has been built on White Supremacy/White Privilege. This is an unfortunate association that ties into the motorcycling community which is predominantly represented by White Americans. Such patterns can be broken through individual inner work and authentic allyship (also known as, activism). Americans must face the historical trajectory of the nation and acknowledge that White Supremacy has been the foundational identity of our country ever since the land was colonized and stripped away from indigenous communities. Acknowledging difficult truths paves way for enacting progressive changes. Motorcyclists have an opportunity to recognize their privileges within the community and learn how to implement inclusion of BIPOC and LGBTQ people who may be interested but hesitant to join the community. We're responsible for creating safe spaces for individuals from diverse backgrounds- they are not responsible for providing us with educational materials- we have to take initiative to educate ourselves with intention to enact change.
Finally, what advice would you give to someone starting their motorcycle journey?
Remember, this is a journey, not a race. Be kind to yourself and never lose sight of your potential. I'm constantly reminding myself that patience and consistency are major requirements of commitment. I've been challenged time and time again throughout my moto journey but maintaining an open mind of humility has been the key to success. It's important not to allow yourself to get easily discouraged and to celebrate all of your seemingly minor achievements or what I'd like to call your "small wins." Be your own cheerleader and find contentment in all of the joys that come with learning a new skill. Your journey is yours to own and it shouldn't aim to look like anyone else's. I advise new riders to embrace your individuality, remember that learning is a never-ending journey, and sometimes it's better to be safe than sorry. You got this!
Knowledge is power! Here are some book recommendations to elevate your vibrations in the New Year:
"We Should All Be Feminists" by Chimamanda Ngozi Adichie
"On Intersectionality" by Kimberle Crenshaw
"How to Be an Antiracist" by Ibram X. Kendi
"White Fragility" by Robin Diangelo