Meet Matthew (@anvil16romeo), who talks to Petitebikers about  'The representation of Gay Bikers within the Biking Community'.
What's your name and where are you from?
Matt Hrutkay, San Diego, California
Why did you choose this bike?
Good mix of café racer style with naked bike engine and speed. Good intro bike that I
knew I could learn on safely, and grow with as I gained more riding experience.
What inspired you to get your motorcycle license?
I was originally inspired when my dad suggested he and I go on a "father and son" ride. Although that wish never happened, the desire to ride stayed with me. I used to live in New York City, and learning to ride was not very practical, because of the short riding season. When I moved to California and saw how much traffic riders were able to avoid (splitting lanes is legal), I was re-inspired to get my license. I went through a two-day course and the rest is history.
What was the most challenging thing for you about biking?
Learning to stay present and focused on what is immediately in front of you. You can't be thinking of work or other stress when you're riding. Once I learned to appreciate it as a meditation, I learned to love riding that much more.
Do you feel represented by the biking community? If No, why?
Not really. The ultra-macho image that most people think of when they imagine riders does not usually include gay and queer riders. While I know quite a few gay riders, it feels like there is no organized group of gay and queer riders to make me feel like part of a larger riding community. The ultra-macho image of bikers also tends to lead to more homophobia in the riding community, and it's not necessarily easy for gay and queer riders to feel comfortable at most biking/riding social gatherings and rallies.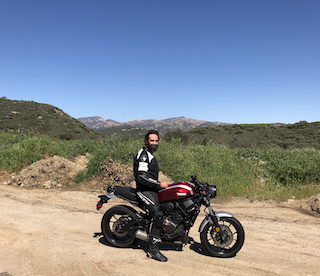 Why is it important for you to be represented by the motorcycle community - Does it make a difference?
I think it does make a difference. It is difficult for many gay, lesbian and queer bikers to see where they fit into the larger biking community, and for many who want to ride, the lack of representation makes it difficult to know just how to jump into riding.
How do you feel the industry can improve in order to be more inclusive for everyone?
I do, and my hope is that by making gay and queer riders more visible from a marketing perspective, other riders would be more willing to welcome LGBTQ+ riders into the larger community.
Have you had any personal experiences, you can share about why you feel there needs to be more effort to break stereotypes?
One experience sticks out. I went to a large biker gathering and product sale in Southern California by myself. As I was getting off my bike, a gang of riders came in alongside me all bearing some neo-nazi, white supremacist tattoos. Seeing that welcomed by other bikers at such a large gathering made me question whether I really wanted to socialize with other riders at all. People need to know that there are nice riders who welcome others, and in fact, that is essential to growing the number of riders across the world.
Can you recommend your favourite, brands, groups, blogs which are inclusive - or working towards changing stereotypes?
Babes Ride Out
is probably the most well known. They encourage women to ride and hold annual rallies for women only. I admire how actively they have advocated for women and created a safe space for women riders in the larger community.
There are several great Instagram accounts I follow that celebrate diversity in riding:
Do you have any questions for Matthew? Are you an LGBTQ+ Rider? Can you relate to Matthew's experiences? Leave a comment below