Motocamping Along the Cabot Trail
Motocamping Along The Cabot Trail; One of the many reasons I fell in love with riding motorcycles was the feeling of freedom you feel cruising between those two white lines. There is no better rush then being completely immersed in the wind and sun. No matter how long I ride I can never get enough of that feeling.  That is why I love multi-day motorcycle rides; they allow me to feel that rush day after day. I personally aim to accomplish one long ride a year and for this year's adventure my boyfriend, Spencer, and I had the chance to ride the world-renowned Cabot Trail in Cape Breton, Nova Scotia.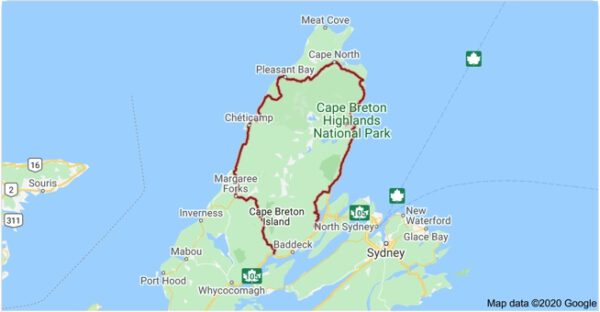 If you have ever heard of the Cabot Trail you will know it is famous for its sweeping roads, coastal views, and friendly Maritimers. After riding the trail in August on my Moto Guzzi Rough I can say this is all true.  So, if you have ever considered riding it's legendary two hundred and ninety kilometers I would highly recommend it. I myself have visited Cape Breton many times as I am originally from Nova Scotia, Canada so when planning this 'Motocamping Along The Cabot Trail' road trip I wanted to add another level of adventure. This came in the form of motocamping. 
For those who are not familiar with the concept, motocamping is the combination of motorcycle riding with tent camping at night. For our trip around the Cabot Trail, we did approximately three days of riding combined with two nights of camping. The campsites consisted of a walk-in site at Grand Mira Provincial Park and a backcountry site located in Cape Breton Highland National Park.
Our first day of 'Motocamping Along The Cabot Trail' began leaving our home base located in Pictou County, Nova Scotia, and riding to Grand Mira, Cape Breton. This is not the orthodox way of riding the Cabot Trail but I wanted to take the opportunity to say an overdue "hello" to my family who live on the island. We left around eight am from Pictou County planning to do about six hours of riding. After stopping for gas and lunch in Port Hawksbery we continued on to Sydney, the main city and unofficial capital of Cape Breton Island. Once we arrived we stopped and grabbed a coffee, using the opportunity to stretch our legs and walk around the nearby harbour. From there we drove to our designated campsite for the night in Grand Mira Provincial Park. We arrived around 4 pm, just enough time to set up camp and relax for a bit.
Our First Campsite (walk-in-site)
For this campsite, we chose what's classified as a walk-in site. A walk-in site is a campsite located usually a short walk away from the main parking area. The length of the distance between the parking lot and camping site differs from campground to campground. I personally enjoy these sites as it separates you from the road and gives you a more private camping experience. With this style of site, we made sure to organize our camping equipment in such a way that it was easy and quick to remove from our motorcycles, therefore, allowing us to walk to the site without difficulty. We did this by using waterproof inserts in our saddlebags that were equipped with handles for easy removal. After setting up our tent for the night we hopped back on our motorcycles and toured around Grand Mira visiting family and soaking in those waterfront views. We now really were out on the Mira.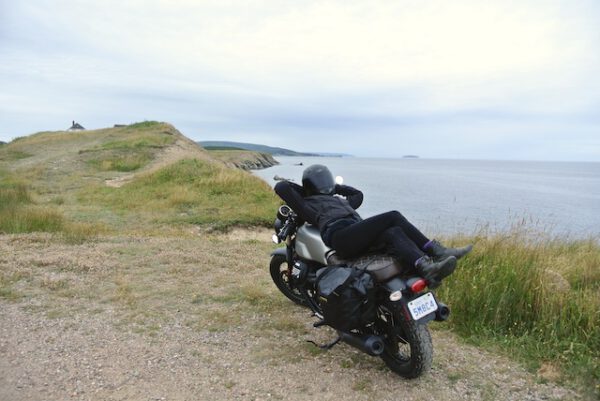 The Beginning of The Cabot Trail.
The second day of our 'Motocamping Along The Cabot Trail' adventure was, in my opinion, the most beautiful day of our entire trip. We planned to ride about two hundred and forty-four kilometres ending up on the west side of Cape Breton Highland National Park near our next campsite called Fishing Cove. We were so excited about this campsite site, as it was a backcountry site that promised incredible views and privacy.
Waking early in the morning we left Grand Mira and drove to the beginning of the Cabot Trail along route 30. Right away, we were greeted with ocean views, rolling hills, and sweeping roads. We had heard that during peak summer months this popular tourist route could be busy with motorhomes and vehicles but for us the road was quiet and we were able to enjoy the cruise. This made it easy for time to fly by, leading us to take our first break of the day at a small town called Ingonish. There we grabbed gas, coffee and purchased our passes for Cape Breton National Park. Once we left Ingonish we drove through the most northern part of Cape Breton Island. This was my favourite section of riding and arguably the most picturesque. In no time at all, we topped a rather large hill and came upon the parking lot for Fishing Cove.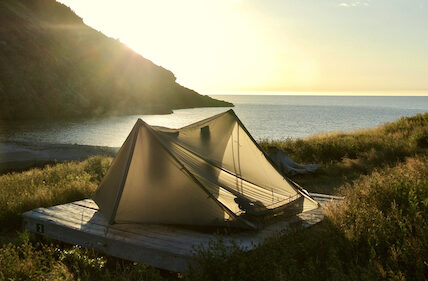 Fishing Cove Campsite (backcountry site)
This was a backcountry site and it required us to hike six kilometres downhill to a platform on the beach where we would set up our tent for the night. In an effort to save space in our motorcycle saddlebags we had one fifty litre backpack which would carry our tent, sleeping bags, and cooking equipment. For overflow, we also had one small day bag that would carry our food and miscellaneous items. Even with this preparation it still meant we had to unpack our saddlebags and repack everything into our hiking backpacks. As you can imagine, this took some time but soon we were headed on our way. The hike to our campsite was mostly downhill and for the majority of it followed a beautiful raging river. Spencer and I chatted eagerly about the riding we had done earlier that day and before we knew it had left the thick forest and were greeted by breathtaking views of a private beach backlit by a glorious sunset.
The morning of day three began by packing up and hiking out of our campsite. Luckily for us the hike back to the parking lot was uneventful and we arrived to find our motorcycles exactly where we left them, if not a little covered in dew. We reloaded our hiking gear into our motorcycle side bags, changed into our riding clothes and rode off. We stopped next at a charming town called Cheticamp located only thirty five kilometres down the road from Fishing Cove. Here we grabbed some much needed coffee, breakfast and filled up on gas. Feeling refuelled and ready to ride we hit the road.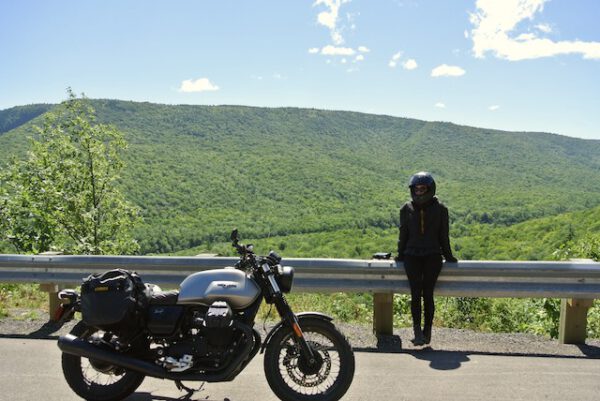 A Rainy Drive with Some Local Brew
About two hours into our ride we hit some minor rain showers but didn't mind too much as we were nearing one of our planned stops at a local brewery; Big Spruce Brewing Co., located in Baddeck, Cape Breton. We pushed through the rain and some mild construction knowing that a delicious beer waited for us at the other end. Once we had successfully arrived at the brewery we grabbed a couple of beers and checked the weather. What we saw was rain and lots of it. We had about roughly 2 hours to get home so we decided to grit our teeth and just get through it. And get through it we did!
After a cold and wet two hours we arrived home tired but happy. Nothing that a hot shower and dry clothes couldn't fix. Sure enough, once we were once again dry and warm we began reminiscing about our 'Motocamping Along The Cabot Trail' trip and of course started planning the next two wheel adventure.
What equipment did we use?
If you have any questions about Motocamping or the Cabot Trail, leave a comment below.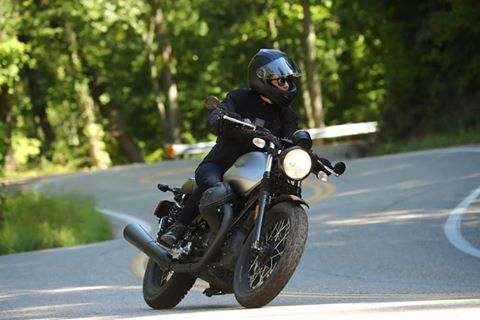 This Blog Post was written by Helen, a Canadian native and Motorcycling Enthusiast. who enjoys the outdoors, when she's not motorcycling, she hiking, camping, dirt biking, and canoeing. Follow her adventures on Instagram by clicking the button below.
Help Support The Petitebikers Blog